monday: july 21st
first, HAPPY 1st BIRTHDAY, KONNOR! here's a photo of davey and konnor last august (davey was about 3 weeks old and konnor was about 2 weeks old…. if i remember correctly):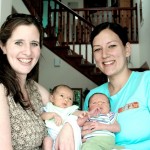 hard to believe EITHER of our boys were preemies (konnor was born 6 days after davey, but he was 6 weeks early). here's a photo of davey and konnor from a few weeks ago (at konnor's birthday party):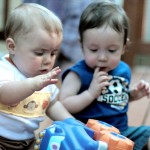 play group today was so much fun. we got some good news that i can't share yet (but i'm still praying for you, dear friend)! the sun was shining and we sat outside for most of the morning…. it was just a really good, refreshing time of fellowship. i LOVE my friends. i LOVE our play group. davey is SO BLESSED with great friends. I am SO BLESSED with amazing friends. and i pray that i don't take them for granted. ever!
next, you all know i LOVE a good bargain. so this afternoon, after my quick trip to the orthodontist (yippee… i'm on "nights only" for wearing my retainer now!), nana, davey and i visited Deals Only. We took quite a bit of time in there (i don't usually do that – i'm usually in and out of there in 15 minutes or less) and i found some GREAT bargains for my dear, sweet Roxy! jeans (with little flowers embroidered on them) and khakis for $3.19, tank tops for $1, a skirt for $2.49 and i can't even remember what else. even davey scored a cute dinosaur sweatshirt for next year for around $3 (seriously, Elizabeth… I was thinking of Jackson as i bought it)! oh yeah… and my great bargain there of the day….. cute grey maternity pants (nice ones – work quality, even though i quit my professional job) for $2. seriously. $2. this is the same store where i bought a pair of maternity jeans when i was preggo with davey for $1. yep. $1. i LOVE this store. and i don't get there a whole lot. oh… did i mention that i also bought some Lindt chocolate bars for $0.99? yeah. seriously. mmmmmmmmmmm! i'm afraid to try and visit any of my other "favorite" bargain stores while nana is here (she convinces me to actually SEARCH for good deals)!
we also did some other shopping/errands. i'm currently getting frustrated trying to find bedding for davey's "big boy" room. if anyone knows of a store where i can buy a twin-sized comforter that is RED (not pinkish red) on one side and black on the other side, PLEASE tell me. i've searched on line. i've searched many stores in whatcom county (though i still have a few to visit) and i'm getting frustrated. sigh. i'm beginning to think i'm going to have to buy two flat sheets and sew them together into a duvet cover (well, i'd have my friend linda sew them together… it'd be worth whatever the cost). but that's my last resort. i'd prefer to buy something "ready made."
and finally, on a really random note, my legs look like those of a 2-year old! i have scratches, scrapes and bruises everywhere. i don't even know how most of them were created!
and with that, it's bedtime for me. i'm planning to enjoy my final few days of sleeping in (nana's been up with davey in the mornings for the duration of her visit… which has been WONDERFUL)!