Thursday: July 24th
today is a sad day. davey's nana has to fly home to PA. we've had a good visit and davey is in love with her. she works hard every day to make him laugh and teach him new things. i know she will be missed. and i've really enjoyed sleeping in for the past week or more, too. tomorrow starts a brand new day for me!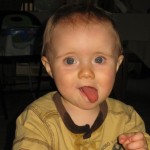 yesterday was davey's 1-year baby well-check exam (not tuesday, as i initially thought). he's weighing in at 19 pounds, 6.5 ounces (10th percentile). he's 29 inches long (25th percentile) and his head circumference is also in the 25th percentile. if i remember right, his head has pretty much always been in the 25th percentile since shortly after birth (he takes after his daddy – gotta fit all those brains somewhere)! his weight has always been in the 5th-10th percentile, so nothing strange there (let's face it, both the dunkin and the sarapata families are on the thinner side) but i'm glad his height is stretching out a bit.
for nana's last day in town we have a busy schedule. today we get to go see baby jorja (she's SO DARN CUTE AND TINY!!!) and this afternoon i'm getting my hair cut and so is davey! yep. he's turning into mr. shaggy-do and it's time to get a trim. especially over the ears! i'm a little bit sad because the hair at the back of his head is just starting to get fuzzy and curly…. i really hope it grows back (curly)! then we have to take nana to the airport (in bellingham) and make a costco run (i feel like i'm out of just about everything!).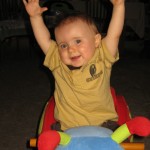 not only will tomorrow be a long day (since i'll have to get up "early" with davey and all), but dave leaves tomorrow after work for a mens retreat (two nights) on the other side of the mountains. i'm glad he's going (i encouraged him), but i have this inside nagging worry that it's going to be a LONG weekend with just doodles and i at home! plus, he'll come home tired sometime on sunday, which happens to be our 6th anniversary and then monday is his 29th birthday!
okay…. i should get a move-on so we can go see baby jorja while it's still morning! happy thursday!