tuesday: july 8th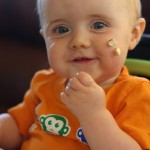 why, oh why, is davey waking up in the night and screaming? why is it that the only thing that will help him fall asleep is to have a bottle in his mouth and to be in mama's arms (even though he barely drinks any of the bottle)? why does he wake up the FIRST time i move him from my arms to his crib but not the second?
saturday night it was 3:40… i sat with him (no bottle) for an hour and 20 minutes and finally put him in his crib wide awake. dave took a turn after about 10-15 minutes of screaming but he couldn't get davey to stop screaming. not even a little. we finally gave him tylenol and a bottle and i was back in bed at 5:20-ish. we missed sunday school b/c of this venture and we were late for church.
on sunday night, he woke up at 1:15-ish and was back to sleep a little after 2 a.m.
last night he was up for about 25 minutes at 1 a.m. and then he woke up AGAIN at 5:20 for another 30 minutes.
does this have anything to do with transitioning him to whole milk? is he not sleepy? is he not getting enough love from me during the day? is it a growth spurt? do i need to take him to the doctor? i'm so TIRED these days from these frustrating late night adventures. any thoughts? suggestions? encouragement?
aside from that, today i see my OB and run erands in Bellingham WITH this peanut. i'm hoping to get out the door pretty quickly here – guess i oughta get up and get going then! but since you'd like to see some photos, here are two outtakes from the last two photoshoot session ATTEMPTS to get a decent 11-month photo: