thursday: july 10th
yesterday i went to the dentist for 2 small fillings – and instead i got three. sheesh! i think two of them were "replacements" but i'm not entirely sure. and then i got my teeth cleaned. while i was in the dentist's chair (i couldn't cancel my appointment – i already cancelled the last one), davey was one block over at the doctor's office with grandma. it was the only appointment i could get since wednesday is dr. dickson's half day in the office.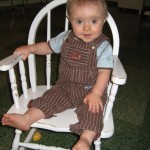 turns out that my darling baby boy has TWO ear infections. i guess dr. d said his ears were pretty red and his glands (in his neck) were pretty swollen. poor kid. he's already had two doses of amoxicillian (spelling?) and we can also give him tylenol simultaneously. davey is amazing. despite his ear infections, he's the happiest little guy in the world. grandma and auntie megan were amazed at how happy he was even after seeing the doctor. no fever. no crying. no loss of appetite. just sleeplessness in the middle of the night.
and totally unrelated, another photo from monday's play group…. this one is for my friend karla: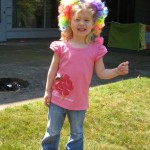 isn't caitlyn the cutest little clown? karla, watch out… this girl's got some real personality! :)
and today i get to go meet baby jorja! hopefully i'll have some photos to post later!