tuesday: july 15th
one year ago today, this was my baby boy:
born 4 weeks early. weighing in at 5 pounds, 10 ounces. born at 4:11 a.m. so tiny. so fragile. so sweet.
my life changed dramatically. drastically. my role in life changed. my job title changed. my heart grew in ways i still can't explain.
it's been a long year… and at the same time, it has gone by in the blink of an eye. my little boy is growing up. he's eating solid foods. he has good dexterity (especially when he finds a cheerio or puff!). he can crawl. he can walk. he can babble (he currently likes to say "bobble" which means bottle, food, cheerios, puffs, binky, and perhaps even "Bible." he also says "dada" all the time…. still no "mama" out of his mouth). he's drinking whole milk (no more trips to costco for formula…. YIPEE)! he has a very definite personality and he's showing it more and more every day. he loves to smile. and laugh. he has 6 teeth. he LOVES bathtime. he'll still fall asleep in his car seat. he loves to people-watch (just ask the strangers he entertained at the restaurant on sunday!).
davey is my miracle child. my constant reminder of God's love, faithfulness and goodness to His children even (or especially?) when we don't deserve it.
yesterday, in the bathtub, my tiny, fragile baby looked like this: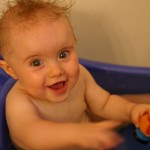 more like a roly-poly, wild man (check out that hair)!
five days ago, he looked like this: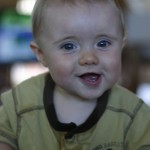 you brighten my mood, doodles!
he's only slept through the night 2 out of the last 10 nights. he's been on anti-biotics for his double ear infection for almost a week now. i hope he'll start sleeping through the night again soon. i'm tired. oh so very tired.
davey will go in to the doctor next week for his 12-month check up, so i'll save his official stats for then. i didn't want him to have to get his shots the week of his birthday (today is the birthday and this saturday is his party – if you haven't RSVP'ed yet, please do so…. i need a count for food and stuffs!!!).
nana is here and she brought a LOT of baby girl clothing. but today is about my Peanut. so no baby girl clothing photos…. maybe tomorrow! :)