sunday: july 6th
when we first looked at our home (before it was "ours"), what made us really want it was the bonus room (the finished room over the garage w/o a closet). i even made a carpet angel in there during one of our visits. when we first moved in, we set up our new tent and "camped out" in that room for a night. it was our party pad, complete with black light, fun colored spinning lights, a fog machine and it's own microwave. it also became a "catch all" for items that had no other place in our home.
then almost 5 years later i had to clear out the far 1/3 of the room to make space for my craft (aka: scrapbook) goodies so my craft room could become the nursery. it took a bit of maneuvering and crowding and purging, but i was able to set up a good craft area among the other items in the room. but i always felt crowded by all the STUFF in there.
even after cleaning out some junk in time for the recent garage sale, there was still just SO. MUCH. STUFF. in there. i would clean it and then a few days later it would be piled high with STUFF again. but yesterday, YESTERDAY i really tackled it.
we're currently trying to sell our futon so we can move the twin bed into the guest room (soon to be Davey's Big Boy Room). so today, i moved the twin bed into the guest room. it's leaning against the window wall behind the futon (which has just been posted on craig's list again – it seems to garner lots of interest but no actual purchasers) which cleared out a big space for davey's play area.
a few weeks ago (before the garage sale), the room looked like this:
this morning, it looked worse (imagine all that mess in the 3rd photo stacked on the bed in the 2nd photo… and all dave's photography stuff on the floor in front of his new cabinet.
the room was just a disaster, yet it's where we tend to spend our saturday mornings with davey. dave was AWESOME yesterday. he spent most of the day taking care of davey… including taking him to the church to work on some "technical issues" with grandpa. with dave taking care of davey, i was free to clean and organize and vacuum. i assembled davey's table and chairs that i bought about a year ago. i hauled stuff out of the room. i moved furniture and shelving. i hung a shelf and some pin boards. and now, the room looks spacious. we can even remember that there was once room for a tent in there!
overview from the doorway: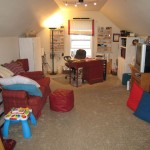 where the twin bed used to be (just inside the doorway):
don't ya love the changes? a cool play area for davey, including the pin boards for his (eventual) art work. i got them free from Treasury b/c the fabric on them is buckled (i can always recover them with different fabric if it bothers me later).
and here are a few shots of my craft (still not set up completely how i want it):
the view from my desk: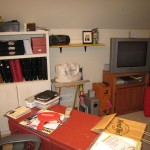 my "happy" area (clear stamps, buttons, flowers, etc. – i hung that shelf myself a few weeks ago):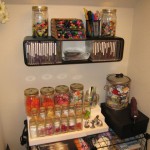 one of my two stamp shelves that dave's dad made for me and then my homemade clip-it-up (one attached to the bottom of each of my stamp shelves) – made with mug hooks, a curtain rod (set of two for $1 at the garage sale), binder rings and curtain rod rings:
so davey has an area. i have an area. dave has a cabinet (and surrounding area). and we have an area that we share: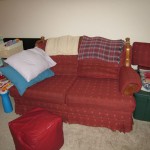 the couch and the tv (across the room).
so i still have some cleaning and organizing to do in the scrap area, but i love the new room. i love it. i love how open it is. how clean. how tidy. i love that it's a space we can SHARE as a family. there's even room for the play yard up there now. sweet, huh? i just need to buy a string of baby gates so i can block davey's path from his area and the shared area into MY area! :)
and all because dave watched davey all day today. THANK YOU, DAVE!!!