sunday: june 29th
whew. it's been a whirlwind of a "welcome home" for us… and it hasn't even been a week yet! the weather on thursday here was COLD… with a high of 63. yes. you read that correctly. but then friday it was up to 80. i got a call in the morning from my dear friend anna who said she was having an impromptu play date/cook out in her back yard. i thought it sounded like a great way to get out of the house and do something fun…. 'cuz our morning was more like this:
(davey playing in the paper recycling basket – mostly junk mail, flyers, etc.)
so about noon on friday, davey and i made our way to anna's house. before long, there were 5 moms and 10 kids eating hot dogs and chicken fajitas and enjoying the summer sunshine that has, apparently, FINALLY made it's way to lynden. brian (anna's husband) even went to the farm and grabbed an "ag tarp" for the kids to use with the sprinkler as a "white trash" (that's how anna describes it) slip-n-slide….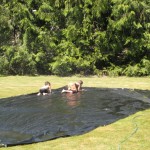 the kids loved it, especially after anna added some baby soap so they could slide farther! then, with the sun being so warm, we had our bathing beauties (eating popsicles and otter pops):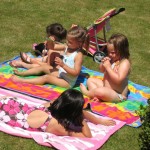 davey played on the porch in the shade the whole time: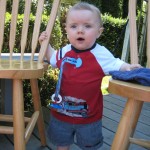 riley got silly and had this "cup eyes" thing she would do – she just kept cracking herself up!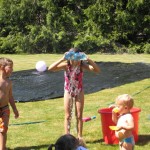 and sweet lily…. with a swim diaper a little wet and heavy and someone else's shoes on her feet (apparently she's a shoe junkie):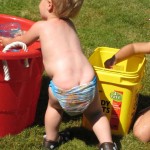 we were there for FOUR HOURS (and i hear the party lasted until 5 that day) and this is what davey looked like less than 1/2 a mile from anna's house: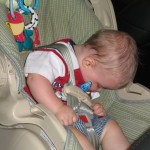 he was so tired he couldn't even hold his head up/back in his car seat!
that evening, we headed over to dad & mom's house for a final evening with aunt ibbie (dad's sister) and uncle arnie (who grew up here in lynden)… aunt ib LOVED davey: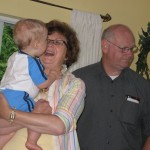 jeff and taryn were able to stop by for an hour or two, as well, and they got some cute shots of davey… let's see if i can link them from taryn's facebook account: davey on mama's belly and a ticklish davey
saturday was another hot, hot, hot day. i had to go out and pick up a birthday present so davey stayed at home with daddy…. and decided to take a LOT of steps. and we mean a LOT. he took 16 consecutive, steady on his feet steps while i was on a quick shopping adventure. when i got home, i couldn't get him to take more than 6 in a row, but i was still pretty impressed with that! the boys decided to relax outside on a blanket in the sun, but it got far too hot for our little guy. so they wound up swinging on the porch swing instead… davey just chilled there for awhile… look how red his little face got: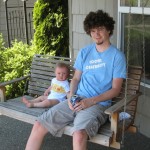 and then it was time to head to sudden valley to celebrate konnor's first birthday! (konnor is 6 days younger than davey, but his daddy will be away – he's in the national guard – for konnor's birthday, so they celebrated it a little early). konnor is crawling EVERYWHERE (he's pretty quick and agile) and davey was tentatively walking around, checking out the people and konnor's toys. then the party really got started. we ate (and ate and ate and ate – well, i did, anyway) and then it was time for the fun birthday adventures!
konnor was more interested in the candle on his cake than in the cake (until he started eating all that frosting! yum yum!) and he was a bit intrigued by the curling ribbon from our gift…
happy (almost) first birthday, little man! davey had fun at your party – thanks for inviting us! and thanks for sharing your toys so well!
that last photo was taken by miss elke with my camera. i'm eager to see the photos that carly and alissa were able to snap of my little guy.
today, davey has CONTINUED to step, step, step. he gains more confidence with each step he takes and he's just so darn cute with his arms out for balance. he even walked (holding daddy's hand) as we left the restaurant today: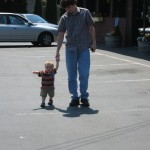 it is now official. my little boy is no longer so little. he's now my big boy. he walks. and babbles. and eats. and is about to move to whole milk. yep. not so little anymore!