saturday: june 7th
today, without any cajoling or coercing, dave helped me price stuff for our pending garage sale (next saturday on front street) and he was an INVALUABLE help (looking up stuff on ebay and pricing items accordingly). we made a LOT of progress, though i have a long way to go (lots and LOTS of clothing items to price still).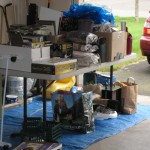 everything on and under the table has been priced. and somewhere in those piles are my garage sale stickers. thankfully, i still have a package from dave's mom and the sale we did YEARS ago!
dave also took it upon himself to start a craiglist identify for me (us) to sell some items locally (better than ebay b/c no fees and no need to ship items – people come pick 'em up)! we posted about 4 or 5 items and one of them was our mammoth futon we bought a few years ago for our guest room. we've already had TWO responses! i thought we were going to be stuck with that thing for years so i'm VERY excited! (davey will move to the "guest room" early this fall so the nursery can belong to the new baby and we already have a twin bed for davey – it used to be dave's).
and guess what else? on tuesday and wednesday i made the rounds to some consignment shops and got rid of about 3 garbage bags full of clothing… hopefully i'll make a little money. one of those bags actually went to a store called Plato's Closet (opening in Bellingham on June 19th) and they give you cash up front… so I earned $34 from them. In a month or two I'll check back with the consignment stores (one in Bellingham and one in Lynden) to see if I've made any money.
after we came inside from pricing (I figure I can price the clothing from the comfort of my couch!), dave got a call to go out to one of their tower sites… and when i suggested davey join him, dave was willing to take davey along for the ride. so here are my boys getting ready to go to work: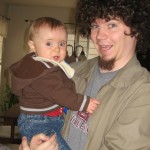 and this means that i am currently HOME ALONE… seriously. HOME. ALONE. i'm not sure when that last happened! :) so i'll sit here and price some scrapbooking stuff and make some tags for clothing items and then dave will be home (with dinner!) and it will have been a very productive day. yee hah! i'm tired. but it's a tired that comes with having accomplished something. and that's a good kind of tired. i think i'll sleep well tonight!