friday: june 28th… so we're home and we're slowly getting settled in. i did most of a load of laundry yesterday, along with several errands in bellingham (while grandma watched davey). dave had a busy day at work and then an even busier evening/night with pogozone – a server crashed THREE TIMES yesterday for no apparent reason… ugh. davey has been a little monster at night – re-adjusting to the west coast time zone isn't so easy for him. hopefully we'll be back on a normal west coast schedule soon. he did, however, pull himself to standing in his crib (TWICE) yesterday, so among other things, we had to lower his crib (he pushed his lamp from his crib-side table to the floor TWICE). he's moving around like crazy, and it's really only a matter of time before he has the CONFIDENCE he needs to walk without assistance (human or furniture). dave's aunt and uncle are in town from ohio right now (they leave early saturday morning), so we're also trying to spend some time with them before they head home. it's just a wee bit crazy here. but that seems to be the nature of our lives!
and now, as promised, another long post/update from our PA-trip…. well, it's really from our NYC trip since we spent a day up there, but i'm getting ahead of myself…..
on monday, june 23rd, we had a LONG, FUN and TIRING day. dave, davey and i boarded the NJ Transit train system bound for NYC. I think we caught the 11 a.m. train and we arrived at Penn Station (in NYC) before 1 o'clock. (photos in order: waiting for the train at a NJ station; the sign; watching out the window; chillin' on the train – don't you love his cute little sandals?!)
We got our subway passes (us on the subway:)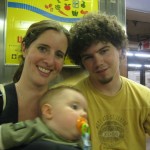 and headed straight for the Central Park Zoo (GREAT suggestion, babi)! now, before i go any further, i must remind you that we had an almost 1-year old with us. which meant the following: davey, stroller, baby bjorn, diaper bag…. and then us and our stuff: my purse and dave's camera backpack (great Christmas present, john & babi!)… that's a lot of stuff to haul on and off a train, not to mention to shlep around the subway system! we finally got it figured out, though, and while it wasn't easy, it was definitely do-able. it also made me very thankful that i do NOT live in the city with a small child (or with small children)!
the zoo was small but AWESOME! did you know they have polar bears in NYC? and penguins? and a red panda? seriously. you can find all of these animals, and more, at the Central Park Zoo! davey was a bit too young, i think, to see or enjoy the animals, but dave and i were impressed and we had fun taking pictures. (in order: feeding time for the sealions; feeding time for the penguins; davey and a sleeping polar bear; a swimming polar bear; the ears of a red panda – lazy thing never did wake up while we were there!; tortoises; a cute seal; an exhausted davey boy):
after a quick stop at the apple store (where dave tested the newest laptop – the air whatever it's called)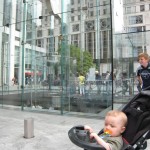 and a quick trip in and out of FAO Schwartz (we were looking for konnor's birthday present but didn't find anything so cool we had to pack it home!)…
(photos in order: davey's not too sure about the FAO Schwartz toy soldier; davey loved this lion – mama loved it too, but at $35 it wasn't a necessity!)
just a few of the amazing (and LARGE) things you can build with thousands of legos:
after the apple store and fao schwartz, we boarded the subway again and made our way to john & babi's new(er) apartment. they moved back in october/november, but we hadn't seen the place. it's SO NICE! three bedrooms. a HUGE (by NYC standards) kitchen – with all new cabinets, appliances, a pantry and more (they're kitchen is larger than mine, for those of you who know my kitchen). two bathrooms. it's a good apartment and just a block away from riverside park (that means they live on the upper west side of manhattan)… there's even a doorman!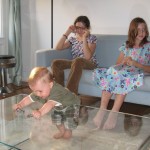 (more playing with cousin kate's bracelets!)
we went out to dinner with john, babi, kate and wendy. we walked down the street about three blocks to a little thai place and ate outside. the food was DELICIOUS. absolutely delicious.
and then we walked over to the park, had overpriced ice cream cones and talked and played for a little while. all-in-all, a VERY fun day in the city even though we didn't get to see Times Square at night (one thing dave really wanted to do). we got on an express train back to NJ around 10 p.m. – davey slept the whole train ride…. and in the car ride home from the station. poor kid was EXHAUSTED (he only had about a 45 min. nap in his stroller all day)!
we still have to take davey's 11-month photos (i don't think we've taken one "on time" yet) and i still have to do a post about him at 11 months…. hopefully that'll be a project for this weekend?! :)