saturday: june 21st
whew. today was a fun, yet tiring day. john, babi, liz, kate and wendy drove down from NYC to visit davey (and us). we were outside in the pool for a significant portion of the day. davey fell in love with uncle john almost instantly. something just "clicked" for davey and all day long he couldn't take his eyes off uncle john. (watch out, uncle tom…. there might be a new "favorite uncle" in davey's memory)! aunt babi was enamored with my beautiful little boy, as well. the whole family was in awe of how much he smiles. how happy he always appears to be. and how much fun he is! wendy, apparently, loves babies and is very good with them. she tried all day long to play with davey… and he was pretty good with her. liz wanted her turn to hold him and kate, the observer, loved watching davey. she was an amazing cousin and let him play with (and chew on) some of her bracelets (something even mama won't do)!
uncle john with a football hold on davey: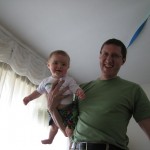 say what, cousin liz and aunt babi?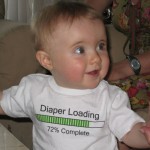 davey liked feeding "sushi" (plastic fish) to uncle john…. then he'd eat it himself:
playing with cousin kate's bracelets: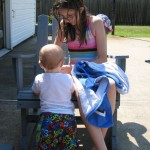 we celebrated elizabeth's 17th birthday, but at nana's house, that means that the birthday girl (or boy) receives multiple presents while everyone else receives (at least) one…. so here's davey opening his present for liz's birthday:
and no family event would be complete without a dog pile by the girls on their dad (my brother):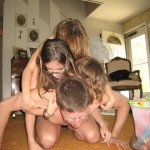 us out on the patio:
before they left to return to NYC, i wanted to take a family photo with them holding davey…. there was much "discussion" over who got to hold davey in the photo…. in the end, we took three family photos:
and saying good-bye (he did wave!):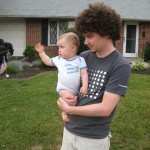 he was SO SAD to see them leave! he didn't cry, but really did look upset that they were gone.
awwww…… dave just came in the house with three lightning bugs (aka: fireflies) that he caught for davey to see…. but davey is already asleep. well, maybe tomorrow, buster!