wednesday: june 11th
one of davey's favorite things to do at grandpa & grandma's house is to listen to music on rhapsody… more specifically, kids pwaise albums. he LOVES them. he dances (bounces) and grooves to the tunes. and he stares at the computer and tv screens waiting to catch a glimpse of the singing kids… it's just so cute!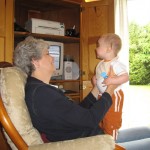 and grandpa & grandma love to watch you as you listen to these praise songs. and sometimes they'll even sing along with the music… just to see an added smile on your face and sparkle in your eyes!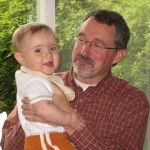 this kid is such a delight!