sunday: june 8th
so dave took this photo while he and davey were out on site yesterday: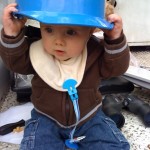 isn't he the cutest little guy you've ever seen in a hard hat? i love how the hard hat matches his binky strap, too! :)
apparently davey had a blast out on site. he got to walk around the truck (while holding on) and hang out with the big boys.
then today, davey decided it was time to PROVE he's a big boy. dave got home from working with dad at the church on some technical stuff. davey was a little "needy" so dave played HARD with him. throwing him up in the air. rough housing a bit. and then he flopped davey on the couch on his tummy and davey would scoot forward to the edge and FLIP OFF into dave's arm! well, he'd actually dive to the ground and dave would grab him by the armpits and flip him over…. davey LOVED IT! davey loved it so much that it had to be done over and over and over. when dave got tired of helping davey do flips, he stood davey on his feet with his back to the couch and davey would lean/fall forward for dave to catch him.
somewhere during this lean/fall forward process, HE TOOK HIS FIRST STEPS. UNASSISTED STEPS. and…. by sheer luck… we have it on video! seriously…. here's a link to the video on you tube: