thursday: june 12th 2008
today started a little early – davey woke up at 6:30 and even though i went to bed at 11:20(ish), i didn't feel completely exhausted when i woke up…. which must mean those iron pills are already helping a bit. whew. now to add that other pill to my daily regimen (thanks kels and shelly for the suggestion since my OB's office did NOT warn me about that)!
i decided that today would be a productive day. granted, i decided this a bit later this morning, but here's what davey and/or i accomplished: 2.5 loads of laundry (one load still needs to be folded), cleaned the kitchen, made a cake and cupcakes, planned dinner, priced books for the garage sale, um… and i can't remember what else. but that's pretty good, right? i think so! and, of course, davey had LOTS of time to play…
he needed to play after all the help he provided with the laundry: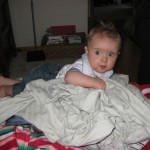 when davey went down for his afternoon nap (around 3) i thought he'd wake up around 5 and since the sun made it's first appearance here in DAYS, i planned to take him for a walk. well, he had other plans. he slept for about 40 minutes. got another bottle and then refused to go back to sleep, though i wouldn't go get him until about 4:15. so we headed out on our walk earlier than planned, which was a good thing. the local (bender fields) swings are STILL out of commission (when will they ever be re-hung?) so we went to the next park…. Million Smiles, which is quite a walk from our house. i actually FORGOT how much longer the walk is when we go to that park.
but i didn't want to stop and i wanted to enjoy the nice weather, so we kept going. and going. and going. and we FINALLY got to the park…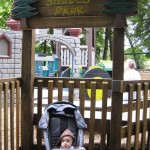 …and davey LOVED the swing! he was a bit unsure at first, but he was pretty quickly laughing and giggling! i had to take him out to put on his sweatshirt (it's COLD at that park – completely covered by HUGE trees) and he was fine. it took him a little while to warm up to the swing again, but once again, he was quickly smiling and giggling and happy. and when i took him out of the swing to return to the stroller and home… he was NOT happy. i can only imagine the temper tantrums this kid might offer when he's older. he did NOT want to leave that swing! thankfully i think it had more to do with being chilly, tired and hungry rather than him asserting his will (at least, i hope that's what it was)!
that last photo – if you can see his face – is "typical davey." he loves to make that face – biting or sucking in his bottom lip. it's so funny… i LOVE this kid!
and now it's time for me to go and enjoy a nice (big?!) piece of cake with dave…. and some more episodes of the Flight of the Conchords (their HBO series).