friday: june 6th
so davey is down for a nap. i saw the eye doctor this morning about my potentially left eye blocked tear duct. wanna know the results? yeah, me too. no. seriously. i don't know the results. wanna know why? yeah… 'cuz i passed out (twice) in the chair while the doctor tried the "probe" test… twice. the doctor was "so close" to being able to try to flush my eye (to potentially flush any blockage and therefore help me avoid surgery)… but i kept passing out. ugh! so here are my options:
- find a new doctor who has a procedure room so i can lie down during the "probe"
- wait until later this summer when my current eye doctor's office has a procedure room in their new facility
- wait until after the baby is born and do what i did last time…. in depth surgery with a long stent
i think i'll start with the first option. but i'll wait until after our vacation (in just over a week) before i call around to local offices. the good thing about today's appointment as opposed to my appointment a few years ago where i passed out in the chair:
- today i wore pants (that day i wore a skirt)
- today i wore shoes that tie (that day i wore flip flops)
- today i ate a sandwich on my drive to the office (that day i hadn't eaten in hours)
- today i had a female doctor (that day i had a male doctor)
- today i KNEW i was getting light headed so i could prevent falling out of the chair (that day i did NOT know i was blacking out so i did slip out of the exam chair and onto the floor)
so today wasn't all bad, i guess! :)
and this week davey has reached a new milestone. he is now able to maneuver (aka: walk) himself from our ottoman all the way over to the dining room table – he holds onto the couch and/or ottoman then the end table then his basket of toys then his exersaucer, then a dining room chair (housing his "seat") and then the dining room table. it was wednesday evening when he made his way from the couch to his toys…. and stopped there to play:
it really won't be long now before he's walking without holding onto furniture!
on another note, his hair is getting a bit long… and really should be trimmed (especially over his ears)… but i just can't bring myself to do it. one, he likely won't sit still long enough. two, i'm afraid i may cut him… or make him look awful. three, cutting hair really is NOT my strong suit in life. so in an effort to make his hair not look quite so long, i gave him spikes the other day…. and then a mohawk: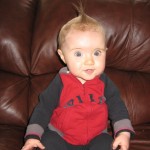 he is pretty cute, eh? :)