sunday: june 15th
happy father's day to my wonderful husband, who is an AMAZING father… and to my awesome father-in-law: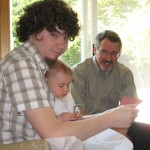 we've had a few busy days in our family. on friday, i spent hours (and i do mean hours) getting ready for a multi-family garage sale on saturday. that night, dave stayed home with davey and i had dinner and an adventure with some friends. love you guys, linda and anna!
on saturday, i was up BRIGHT AND EARLY for the sale. it was cold and windy, but it was worthwhile. our sale was HIGHLY trafficked and the 6 of us sellers had a great time hanging out during the day, convincing people to buy our unwanted items, making deals (or in my case, not making too many deals!), eating little caesars for lunch…. it was a good day. and VERY successful. i made the most money and i think linda said my final tally was around $460. that should MORE than pay to finish decorating the nursery and decorating davey's "new" room (currently the guest room). my goal was only $200, so i did pretty awesome selling off a few large items and lots and lots of smaller things. i apologize for forgetting to take photos… but at least that means i was having fun living in the moment!
after the sale (including all the clean up), dave, davey and i headed out to the spit at semiahmoo to hang out with the Dunkin family and the Culbertson family (rachel's in-laws). we had hot dogs (or polish sausages) for dinner (along with cherries, chips and a few salads) and some tasty s'mores for dessert.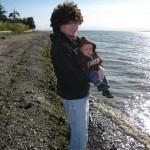 today, dad preached at church and then we had a family lunch at their house… complete with father's day presents AND dad's birthday presents (his birthday is this thursday). davey was pretty cute this morning while i was getting him ready for church: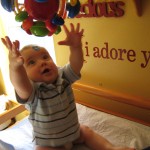 this cute little kid reaching for that toy (and sporting a chiquita banana sticker on his forehead) turned 11 months old today! my sweet baby is almost a year old already. sheesh! i'd better get busy planning his party! i'll have to do a "davey is 11 months old" update later.
tomorrow is a bit crazy for me. play group in the morning (to collect my garage sale earnings!), hopefully a trip to the library to get some reading material for our journey, some laundry, some cleaning and then two doctor's appointments. one here in town for me and one with a new eye doctor in bellingham. at 4 o'clock i'm supposed to be getting my left eye (the watery one) probed (and maybe flushed?) at a doctor's office that has a procedure room (aka: a table so if i pass out, i won't fall out of a chair and onto the floor). after that, i'll pick up dinner and the packing will begin. we leave on tuesday morning to visit my family back east. we're looking forward to the trip, but there just seems to be SO MUCH TO DO between now and then!
hopefully i can share at least one more post before our trip. just a warning: we'll be living with dial up connection while at my mom's house, so unless we get lucky and there's a neighbor with an unblocked wireless internet connection, you won't be hearing from me for at least a week.