monday: june 30th
so it's the last day of june… and it's a big day here in the dunkin household. dave had a job interview this morning. he feels it went well but we won't know for a few days if there's an offer. see, there are no actual positions available… so dave had to go in and really sell himself as a needed member of the team. so we'll know soon. hopefully.
and today at 2:15 is my 20-week ultrasound. yep. i'm 20 weeks along today. with no belly shots yet. seriously, i know. what's wrong with me? i'm definitely getting bigger… and i definitely grew while we were in PA last week – there's no more guessing or wondering if i'm pregnant or just fat. i like when i get out of that "is she really that fat?" stage. but i digress…. so our ultrasound. we're planning to find out whether it's a boy or a girl (if baby chooses to cooperate, that is). but, we may change our mind at the last minute… though i think we're both pretty set on finding out. we didn't find out with davey. didn't really even want to. so it's a fun change to really want to know with this one. we're both convinced it's a boy…. so we may know in just a few hours.
it's still hot here in lynden, which i LOVE. i don't want to complain that it's too hot b/c it took so long for the nice weather to get here (remember – we've had the coldest june on record, and the records date back to the 1800s) but we are trying to find ways to beat the heat. so last night, we packed up the car, called some friends and headed out to The Spit at Semiahmoo to enjoy the cooler air by the water.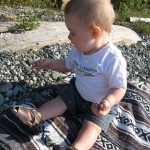 we did have a fire so we could eat hot dogs and polish sausages and, of course, s'mores. i LOVE those things. ooey gooey marshmallow & chocolatey goodness (you do know the secret, right? take a rock, place it near the fire/coals and lay your graham cracker on it and your chocolate on that…. then you roast your 'mallow – by the time your mallow is ready to eat, your chocolate is soft but not all melted and it's mixes with the gooey marshmallow goodness)!
well, i'd better go drink my 16 ounces of water… required for the ultrasound. sheesh! and they seriously think i'm going to be able to drink that much and NOT go to the bathroom before my appointment? tee hee. i don't think so!
edited to add: i'm FINALLY working on a NEW LOOK for my blog… including a much larger area for my lengthy posts and multiple photos so you don't have to scroll down for SO LONG to read a post! i have no idea how long it'll take dave to help me get it from paper to computer, but we'll aim for the end of july, k? and if we get it done sooner, it's a HUGE BONUS for all of us, right?!