Friday: May 23rd
So what once was broken (by falling on the floor in Target back on May 13th):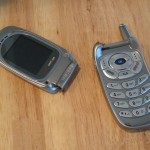 has been fixed – sorta: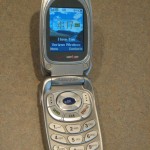 i went without a phone for NINE WHOLE DAYS. whew. i'm glad the wait is over! we had my phone number transferred to dave's old phone (aka: the same as my broken one). and i paid the extra money to have all my numbers transferred to the phone, too. it was worth it to me. and i also had to have HIS number transferred to a REALLY old phone of mine. but it's done now. and it wasn't all that complicated after all.
and for those of you who like to see my creativity, here's the card i made earlier this week using a BRAYER TECHNIQUE taught to me (through her blog, no-less!) by my dear friend, Elizabeth: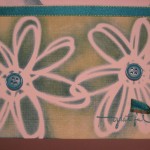 so i used a flower mask and laid it down on my white cardstock. i inked my brayer with a green ink. then i used a cotton ball (in place of a sponge) to add some turquoise ink over the mask where the brayer didn't quite cover all the white cardstock. i added some ribbon along the top and a ribbon knot on the side and a little sentiment and some buttons. it was FUN to play with my brayer.
and remember those cute stamps that aunt marylou sent to me? the people? here's a thank you card i made for her:
pretty cute, huh?! :)