tuesday: may 13th
i had a WONDERFUL mothers' day. we went out to dinner (jake's BBQ in lynden – YUMMMM!!!) on saturday night. and then on sunday morning, dave got up early with davey so i could sleep for another hour or so before getting ready for church. and then he made lunch – a "dave original" – lime grilled chicken, a homemade type of salsa, rice pilaf (from a box) and then strawberries for dessert (or in dave and tom's case, strawberries on ice cream). davey bought me a gerbera daisy (orange – my absolute FAVORITE) and dave bought me a bouquet of mini roses of all different colors. they're beautiful. and they each gave me a card with some cash in it for clothing shopping. it was a WONDERFUL day for me, especially as my first mothers' day.
we spent a good portion of our day contacting family and that night we visited a few friends. and this morning i shared with my dear friends in play group. and some other friends. and the TOM girls. and now it's on facebook… so here's the latest news from the dunkin family: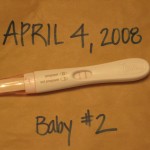 yep. we're pregnant again! on april 4th, i took a home pregnancy test (hey renee – i'm an ept fan… never tried clear blue easy!) and within 10 seconds, there were two pink lines. that means "pregnant." and normally it takes 3 minutes or something. but i'm dead serious that within 10 seconds the test said pregnant. i was in shock b/c i didn't have those "anxious waiting moments" wondering if i was…. or wasn't….
so by my calculations, i'd be due in late december or early january. i called the doctor's office and they calculated a december baby… and scheduled me to see the doctor on May 5th (a week ago Monday), figuring i'd be about 7 weeks along. and they didn't want to see me any sooner than that because we wouldn't be able to see the baby very well.
so my appointment FINALLY arrived. and dave, davey and i spent an hour or so in the office. the doctor decided to set my due date based on the baby's measurements from the ultrasound. based on my measurements, i wasn't 7 weeks along. i was 12 weeks along! that means i lost 5 weeks somewhere. that's more than a month. that means i'm almost finished with my first trimester! and it means i have a due date of november 17th. and since davey arrived early, i'm supposed to be "prepared" for a possible halloween baby. oh yeah – davey was smiling and bouncing around when he saw the baby on the screen… hopefully that's a sign of good things to come! :)
yeah. crazy. and get this: davey will be 15 or 16 months older than his little brother or sister! i will be ONE BUSY MAMA! but i (we) are VERY excited about this pregnancy. we thought it would take at least a few months to get pregnant again (it took us 8 months with davey), but it took less than a month. yep. less than a month!
i'm glad that everyone knows now… because i'm already showing. and it was getting hard to suck in my baby belly!! :)
i've been feeling pretty good – similar to how i felt when i was pregnant with davey. i was (am) nauseated if i didn't (don't) eat small meals throughout the day. and i do get tired pretty quickly. but overall, i'm doing very well and am feeling great.
(oh yeah – we don't have a good, gender neutral "in utero" name for this baby yet, so suggestions are being taken! remember, davey's name was Baby Seven. and no, jeff, "baby reggie" is not an acceptable suggestion!)