sunday: may 25th
the results of our shopping adventure? SUCCESS! we ALL purchased several items. we ALL had SO MUCH FUN. and we all want to DO IT AGAIN! Here's a photo of us (stuffed to our eyeballs) after finishing our lunches at The Macaroni Grill: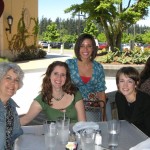 It was so nice that we were able to eat outside (in the SMALL dining area) in the shade without being too chilly! Check out Taryn's cute new "do!" She had her hair chopped off earlier this week and it looks SOOOOO DARLING!
I had so much fun celebrating mom with Rachel and Taryn. Rachel and I always seem to have fun when we're together and it was great to see her two Saturdays in a row! This was one of the first times I really got to hang out with Taryn (I've never seen her without Jeff in tow) and get to know her… I knew I liked her, but now I LOVE THIS GIRL and I can't wait for her to join our family (in 13 months and 17 days…. I think that takes us to July 11, 2009, right?)! She and I had SO MUCH FUN shopping together. It seems our tastes are somewhat similar, we're both easy-going and can shop just about anywhere, and we both LOVE to make fun of HIDEOUS jewelry, shoes, clothing, etc. I laughed so much yesterday that I'm surprised I didn't pee my pants (remember, I'm pregnant, so it's easy to do that kind of thing!)!
I seriously wish a camera crew had followed us around for the day. There were SO MANY UGLY THINGS for sale and Taryn and I mocked a good portion of them. I only pulled my camera out of my bag a few times (and all in Macys, I'm afraid to say – they usually have such good taste!) and here are three things that astounded me: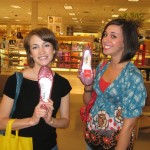 rubber/plastic jelly shoes are back…. only WAY more expensive than they were when I was a girl. I used to own a LOT of pairs, but that's because they were about $3 a pair!
after the shoe department, Taryn and i found the costume jewelry in Macys. we found some UGLY stuff (did you know that neon yellow and neon pink are apparently fashionable again for jewelry, at least?). we tried on at least a half a dozen necklaces each, and though these pictures don't do them justice, here are two of our favorite "worst of the worst:"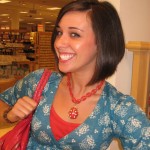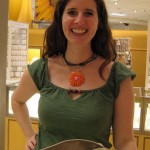 Taryn is sporting a lovely, metal but painted red ladybug (and it's HUGE) while I'm showing off an ever-so-lovely neon pink daisy (again, HUGE). the flower was also available in yellow. at one point, i had one flower on my neck and one on my head (like a headband). ahhh…. too funny.
and while all that was going on, mom & rachel were being serious and were checking out the nicer jewelry. mom bought a silver chain (which, by the way, mom, i noticed you wore your new turquoise today and it looked good – i just forgot to say anything) and rachel bought two pairs of earrings. at least i hope she bought two. we were trying to convince her she needed the second pair (but seriously, $40 classic silver earrings for only $8…. it's a no-brainer)!
It was a long, but wonderful day. I have sisters (okay, a sister-in-law and an almost sister-in-law) and we shop well together… one of my favorite activities! I think we might have to make this an annual event!
Now I'm off to add those photos to my facebook account, per Taryn's request. Well, "deal," actually!
p.s. Aunt Marcia – you would have had fun with us, too! we saw a pair of shoes (that we did NOT mock) that made us think of you…. and then i came home and saw your comment… we had lots of fun and thought of you!