Monday: May 5th
so on saturday night, when dave came home from the movie, he gave me this: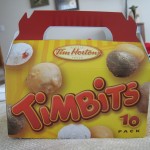 and inside, i found these: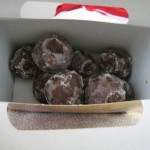 mmmm. they're not dunkin' donuts, but they certainly were tasty when i ate them on sunday! i LOVE chocolate cake donut holes with glaze on them. sooooooooooooo gooooooooooooood!!!
and last night, when i peeked in on davey before i went to bed, i saw my silly boy sleeping the short way across his bed: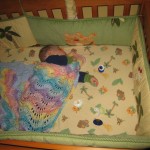 crazy kid! he sure is cute, though. and he slept through the night.
it's late here (11:07 on monday night), but i feel good because i finished all of the reports i'm supposed to write for work tomorrow. yep. they're done. and none are due on wednesday. so i just have to check voicemail to see if anything came in. otherwise, i'm free and clear for a day or two with "outside" work. trust me, though, i have a LOT to do in this house!
we trust that the family has arrived safely in oklahoma and is eager to begin their journey on route 66. and we trust that jeff & taryn are already having fun and enjoying the WARM weather in san diego. and we trust that rachel & sterling are enjoying atlanta (and sterling's side trip with his brother to the caribbean). and i trust that i am jealous of ALL OF THEM b/c i'm stuck here in lynden!