monday: may 19th
what a fun weekend! we took our time getting ready on saturday morning and then headed down to seattle. the highway was being worked on in bellingham (they expected 1 mile back-ups) so we opted to take the beautiful, scenic chuckanut drive down to skagit county where we then hopped onto I-5 for the longer drive to west seattle.
davey was a trooper. he only slept for about 30 minutes in the car but he was awake and well-behaved the whole time… just looking around and playing with his toys. and then when we got to aunt rachel & uncle sterling's apartment and we were SHOCKED at how CROWDED it was on their block. they live just a few blocks from Alki Beach and it was so hot that it was SWARMING with people – mostly hootchie mamas and wannabe thugs. we went for a walk, which included a little adventure down in the sand so our overheated child could cool off. he was funny, though…. when the stroller stopped moving, he'd lean forward and rock himself back and forth, as though he were telling us "get moving mama & daddy! i want to GO! GO! GO! GO! GO!"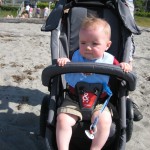 here's davey with daddy getting his feet wet for the first time:
he seemed okay until dave tried again: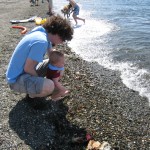 davey wasn't too interested and he'd kick his little legs and refuse to touch his feet to the rocks. so dave would scoop water into his hand and touch it to davey's feet to help cool him off: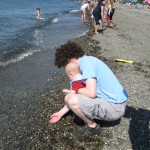 that was acceptable to davey. so we're assuming he didn't like the rocks but the water was fine.
here are two other fun "beach" shots:
unfortunately, the sand was FAR TOO HOT to try davey's little feet in it, so we'll have to have another beach adventure some day where davey can get some sand between his toes!
we were all a bit overheated and decided to head back to the apartment to cool off a bit (and the lines for ice cream were all FAR…. TOOOOOOOOOOO……. LONG)! poor little davey fell asleep in his stroller and his cheeks were SO FIRE-ENGINE RED. when we got back to the apartment, his entire back was a giant sweat-soaked ball of…. um… sweat (okay, so i'm not too creative right now). he had no interest in falling back asleep so auntie rachel got him a cold cloth and we used it to cool him down as much as we could.
before long, uncle sterling arrived home (early!) from his all day class & test. after hanging out for a little while, which included davey playing the keyboard: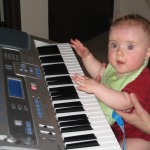 we went out to eat at this great little brewery: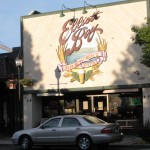 the food was SOOOOOO tasty… we all LOVED our meals! i ordered a turkey, swiss and bacon sandwich on their own sourdough bread. it came with seasoned fries that were DELICIOUS (and i'm not really much of a fry lover). mmmmm. dave had a blackened ahi tuna sandwich and sters & rach both had burgers. davey just enjoyed sitting at the table with all of us!
we walked around for a little while and then had some homemade ice cream at this little shop & deli (Huskys) – mmmmm…. more yummy goodness.
on our way to dinner, we stopped at a city overlook… check out these photos:
and, of course, davey spent all day showing uncle sterling & auntie rachel how he can clap like a big boy: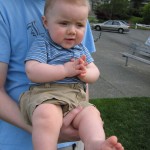 We had a wonderful day with Sters and Rach and hopefully it won't be too long before we can visit them again. We took the long, scenic way back to the highway so we could enjoy the city lights at night along the water. it was beautiful, but it took us a long, long time to reach the highway (though sters did warn us!).
sunday brought another fun adventure back home, but this post is long enough. tonight, we're hoping for a quick visit with grandpa & grandma who should be at the bellingham airport already. i know that they've missed davey over the past few weeks and can't wait to see his newest tricks (clapping, standing, his incoming teeth)!