thursday: may 29th
it's getting harder and harder to find jammies for davey. i LOVE footie-jammies but it's next to impossible to find them for size 12 months (what he wears now) and size 18 months (what he'll wear this fall and winter). so i had to break down and buy him some cute carters pjs this past weekend…. without feet. so last night, for the first time, i put him in his big boy pjs. he slept just fine. and he looked pretty darn cute. wanna see?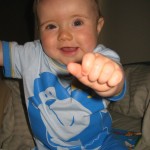 yeah, i know. not the greatest photo, but he wasn't the most cooperative child! :)
wanna see something else cute? yesterday it was warm enough for him to wear shorts all day. so he wore his cute plaid shorts that i found at Deals Only last summer for a whopping $1 a pair. yes. $1. that's not a typo. i'm hoping to visit that store again this week – it's been months since i've been there. oh yeah…. the plaid shorts photos… i almost forgot:
and here's a cute one of davey with his goofy grin: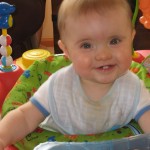 hopefully today i can paint our 3rd bonus room cabinet so it can get moved into the bonus room this weekend and then i can FINALLY set up my full craft area up there…. and then it'll be time to start pricing items for the garage sale! eek!!
edited to add that as of 9 a.m. today i had changed THREE poopy diapers. it's now 10:25 a.m. and i just changed a FOURTH poopy diaper. seriously… WHAT have i been feeding this kid?