Wednesday: May 7th
After a trip to the grocery store yesterday (as a way to get out of the house), Davey and I discovered a fun new game for him:
yep. a brown grocery bag is a fun toy. and a good hiding place while mommy puts away the groceries!
yesterday wasn't all fun and games, though. i'm sad to report that davey was a MAJOR STINKER with BOTH naptimes. He was tired, but he fought me for over an hour with each nap. for the morning one, however, he slept for 2 hours, so it was worth the fight. with the afternoon one, he only slept for about 45 minutes. he did, however, look pretty cute during those 45 minutes: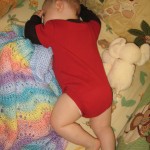 i love his little hand up by his head – he's just so dramatic about naptime!
hopefully today will be a new day with better naps!
Yesterday wasn't as nice as it was supposed to be (I really wish they COULD figure out the weather out here!) but it was still good enough weather for a late afternoon walk. so davey and i made our way to bender fields where we stopped to watch some friends from play group and church play their first t-ball game! congratulations to Lily, Maddie, Logan, Harrison and Gracie for making it through their first game! Gracie… you've got a powerful swing, girl! And Logan, you CRACKED ME UP with all your field antics (wearing his glove on his head, on his wrong hand, lying down in the grass while playing 1st base, etc)! I should have captured a group shot of the five of them after the game, but I didn't think about it until i was walking away. so instead, here's a field shot: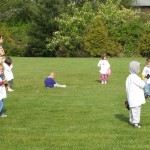 I think my favorite thing was how long their t-shirts look on them! On some of the kids, the shirts come down to their knees! :)