Saturday: May 31st
So yesterday Davey and I did a fun loop of the "discount stores." We started at Big Lots where I picked up a car seat (the next size for Davey) for only $60…. but I need to research it a little more and POSSIBLY take it back. See, while it appears to be the next size Davey needs, it doesn't quite seem like he'll be TALL ENOUGH for it until he's about three years old. So that might be why it was a Big Lots in the first place – an "oops" in manufacturing! See, he'll be heavy enough (22-80#) but it's for kids who start at 35"…. and he's only 27 or 28" right now. I'm pretty sure that he won't grow 7-8" in just 5 months!
But we also found a few other bargains at the stores that were too good to resist: a new "activity gym/play mat" (so we can FINALLY return Carrilee's to her – just in time for her to use it again with the new baby!), sidewalk chalk (to save for next summer), an inflatable swimming pool (hopefully it'll get hot enough here to use it), some ribbon (for my scrapbooking stash) and maybe that's about it. so not a lot, but that's okay. we were really on the lookout for some good outdoor toys for davey to play with – things he could walk and push or ride on…. good, sturdy, plastic stuff. but i found nothing.
here's the little bugger enjoying his new play mat, though: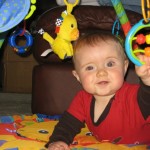 it's getting next-to-impossible to get this kid to smile for the camera…. so i end up with a lot of goofy shots…. or the back of his head… so this was the best i could do.
it was also WONDERFUL yesterday to pick up dave from the airport. he'd only been gone for a few days, but it makes a huge difference to have him here. he got up with davey this morning (at the ungodly hour of 5:45 a.m. – seriously kid?) and let me sleep. i kept drifting in and out of sleep until about 9 when i finally decided i'd better get up. the two of them are still sleeping in davey's room – davey in his crib and dave on the floor. poor guy – he was very tired from his trip (he doesn't sleep well without me around) so i really should've been the one to get up this morning…. though i'm so thankful he did!