Friday: May 30th
Yesterday was a rough day. Davey woke up early (6:30 a.m.) and he was cranky off and on all day. By 5 I was SO DESPERATE to find my happy baby that I stripped him down to his diaper, set him in his chair and gave him a…. GASP!….. biter biscuit. I HATE those things. they are SOOOOOO MESSY and disgusting and Davey HAS to have a bath after eating one. but a know what? for about 20 minutes he was the happiest little baby ever. and then he got a bath, so the happiness continued. and i was ever-so-thankful. he was SO DARN MESSY that i took a bunch of photos, but for now, i'll just share one: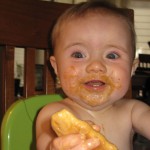 see that smile? he LOVED eating that nasty, messy thing! so i guess it was worth the mess to see that smile over and over and over again!
today will be a good day. we're going to head to bellingham to some of my favorite discount stores (Deals Only, Tuesday Morning and Big Lots) just to see if there's anything to be had. and THEN we get to pick up dave at the bellingham airport. he's been in san francisco since tuesday…. and we have BOTH missed him a lot. it'll be good to have him home again. and i know he misses us!
happy friday to all… and a special HAPPY BIRTHDAY GREETING to my dear friend and fellow TOM-girl, ALISSA!