Monday: May 26th
Happy Memorial Day! To all those who have served or are currently serving our country, THANK YOU. Thank you for fighting for my freedoms. My independence. My safety. I'm thankful for those who gave their life on the field and for those who made it home safely. You are my heroes. And today I especially want to thank all the members of my family who have served and I want to thank Will, my dear friend Kim's husband and Konnor's daddy. THANK YOU!
And Davey wants to say THANK YOU and give you all a big smile, too, so here it is: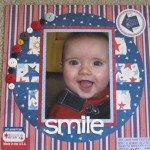 It's a layout that i made this morning. it's supposed to be in the store today but i don't think it's going to make it there unless a friend or family member is heading into town and wants to drop it off… otherwise it'll be there tomorrow when i head to work. it's using the newest Scenic Route line (one of my ALL TIME FAVORITE companies). It's a 4th of July themed line, but it works so well with my little guy all dressed in red and denim! the layout came together pretty quickly, too. i LOVE IT and MUST buy some of this line!!!
Davey is getting so close to WALKING that it's not even a joke anymore. Dave is desperately hoping it doesn't happen this week while he's on a business trip. We (finally) took some 10-month photos of Davey yesterday (no belly shots of me, yet…. soon, I promise!) and while those are still on Dave's camera, here are two of my own "outtake" photos from Davey being not-so-cooperative with the whole "sit-by-the-elephant-and-smile-at-Daddy-and-the-camera" scenario: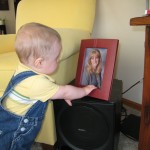 but i guess "saying hi to nana" was a worth-while detour from the photo shoot!
And check him out in this photo…. he looks more like a toddler than like my "baby davey:"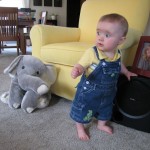 Yesterday we didn't have evening church, so mom and dad had the night off. We headed over there to (finally) see their vacation pictures (Route 66, Bryce Canyon, the Grand Canyon and Aunt MaryLou's house, among others). We had a great time. Their photos are amazing – we put off most of our "US travel" desires for one day when we have kids and take family vacations. At the top of our list are the Grand Canyon and the National Parks in Utah. GORGEOUS. But my favorite photos of the evening were these two of Davey with Uncle Tom:
i love the look of SHEER DELIGHT on Davey's face! I LOVE MY LITTLE GUY!
p.s. i'm STILL taking suggestions for an "inside" baby name. so far only one suggestion has been offered…. Baby Eight. no one else has any suggestions, though? really?