wednesday: may 14
yes, everywhere we go…. and everyone we see… davey claps his hands. he's so darn proud of himself. and he LOVES the attention from strangers! i can't even count how many people at the grocery store got to see him clap his hands today. and then he decided he was a REALLY big boy and he altered his sitting "stance" in the cart. he pulled one leg up out of the "leg hole" in the cart. so he sat there with one leg dangling down, the other leg was casually bent as he sat sideways in the cart…. through 2/3 of the store. i wished i had my camera handy!
in other news, he is really getting the hang of this "standing" business. at play group on monday morning, he was wearing shoes and was on a level surface (a kitchen floor) so he stood for a good 10-15 seconds for anna. everyone warned me that i should watch out or anna would have my kid walking before i had time to turn around! Dave tends to get really good "stances" out of Davey, too. here's a photo from just a few minutes ago: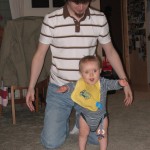 seriously…. when did he grow up so much?
and here's a photo for aunt rachel: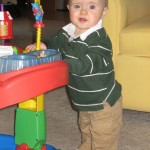 this was what davey wore on sunday. he looked like such a little man in his khaki pants (those are the new ones you sent, nana!) and his long sleeve, striped polo shirt! and later in the day he wore these cute shoes (only because i forgot to put them on him for church):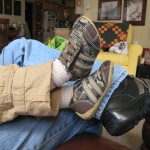 they were in his easter basket from grandpa & grandma. they fit him now and he might actually grow out of them very, very soon (they're a size 4 – i finally found a clear sticker on the bottom of the shoe, grandma!).
for whatever reason that i can't explain, i LOVE that photo of his little feet, slightly crossed at the ankles as daddy holds him and feeds him a bottle.
here's davey at jake's bbq on saturday night: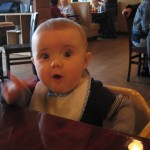 he was a total ham that night… but the lighting is pretty rough in there, especially when i don't want to use the flash!
and one final davey shot: here's him sitting in the grass (probably in almost the exact same place he sat the FIRST time he encountered grass) at the bender field playground. we went for a walk one day last week, just to get out of the house, and after swinging for a little while, i let him explore the grass for a bit. this kid really seems to like textures.