Thursday: May 22
so here's part two of our fun weekend adventures. on sunday evening we headed to tim & carrilee's for dinner and then a bonfire (i was craving s'mores). it was beautiful outside and the boys enjoyed playing together. henry was pretty good with davey, too, with only a few exceptions. so here's a little photo view of the fun evening:
henry loves to PUSH… whether anyone's riding or not!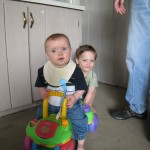 my boys just hanging out before dinner: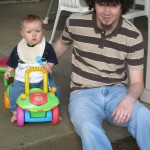 henry wanted to wear his little monkey backpack/leash and then he said "cheese" for the camera!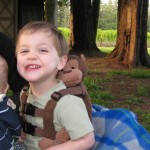 carrilee pushing the boys in the new stroller she found at a garage sale for only $25…. it can hold an infant in a carrier and then henry can sit OR stand in the stroller. what a find!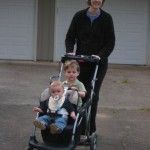 on our walk (while tim & dave were testing some radios for work), we had all kinds of adventures! the boys got to feel smooth leaves on a tree and some bumpy seeds on the same tree. and we saw a goat, a horse, some dogs (including a pug) and a cat. and henry got to "climb" on some dirt ramps. what an adventure!
AND A REMINDER TO EVERYONE: NO ONE HAS SUBMITTED ANY POTENTIAL "IN-UTERO" NAMES FOR OUR BABY. DAVEY WAS KNOWN AS "SEVEN" (FROM A SEINFELD EPISODE). WE HAVE NO GOOD IDEAS FOR THIS ONE AND I DON'T JUST WANT TO CALL HIM OR HER "BABY" FOR THE NEXT 6 MONTHS! SO HELP, PLEASE! THERE MAY EVEN BE A PRIZE INVOLVED FOR THE WINNING SUGGESTION!