tuesday: may 20th
so i'm already a day late with turning in a layout sample for the store. so this morning, while davey was behaving, we headed into my craft area and in less than 10 minutes (okay, maybe 15), i had completed this: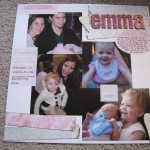 a few inked strips of patterned paper, a collage of photos of little miss emma kay, some glitter chipboard letters and hearts and a few stickers…. and there you have it…. a completed, quick and easy layout!
and last night, when grandpa & grandma stopped by to see their wonderful grandson, he was ALL SMILES for them…. and he showed them (many times) how he loves to clap AND stand… and they even got a peek at his incoming teeth!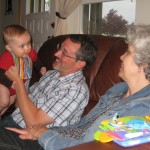 they were THRILLED to see their darling baby again after two weeks. and grandma is ready to JUMP RIGHT BACK into some babysitting, so later this week she's gonna watch davey so i can head to the store to design next week's cards for card class!
grandpa & grandma delivered some fun goodies to us…. a route 66 bib for davey and coasters and a bottle opener for us. aunt marylou sent along a fun water toy for davey which should come in handy this weekend with all the sun and warm weather we're expecting. and, near and dear to my own heart, these FUN FUN FUN FUN FUN stamps (also from aunt marylou) for me to play with:
i saw these on someone's blog and i fell in love. i spent a week or two trying to buy them online somewhere but i wasn't up to spending the same amount on S&H as on the stamps themselves… and then it dawned on me to check with aunt ML if they had one of the stores nearby… i had planned to pay her back for the stamps but when she sent them home with dave's parents, she told mom to tell me that they were her treat.
I. CAN. NOT. WAIT. TO. PLAY. WITH. THEM.
today is errand running day in Bellingham. with gas prices at more than $4 a gallon out here, my trips to Bellingham have been limited to one a week. this week is special – i get to run errands today and on thursday i can go BACK to bellingham to design next tuesday's cards for class at the store. i don't know what it is, but i LIKE going into bellingham. i LIKE running errands (most of the time). i think it goes back to my LOVE of shopping. even if it's for chicken and diapers at costco, i still get to be out and about and observing all the fun things for sale out there!