saturday: may 10th
Last night dave and i went to a local IMPROV night. The Panic Squad is an improv group who has committed themselves to a clean night of comedy and entertainment. Andrew Bright is in "charge" of the group and we're fortunate enough to have the Brights in our church…. and our Sunday School class…. and our play group! So last night, The Panic Squad helped out our church's youth group in their efforts to raise money for their summer missions trip to northern British Columbia to work with the First Nations people. It was my first time ever seeing TPS and Dave's second time. We were both impressed and we laughed – a lot – throughout the evening. In case you're interested, TPS performs throughout the US and Canada, so don't hesitate to contact them for one of your work, church or personal events – you WON'T be disappointed!
But I think one of the coolest parts about the evening was talking to people during intermission and having them ask "so are grandpa & grandma babysitting?" and we were able to proudly say to the surprised questioners that "uncle tom is watching him." i think it's awesome that davey's 19-year old uncle offered to babysit, even KNOWING that he would have to change davey's diaper and get him into his pjs and put him to bed. way to go uncle tom!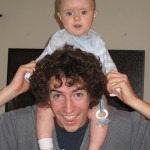 speaking of davey… guess who is STILL clapping a lot? and guess who was able to stand on his own (not leaning on ANYTHING) and momentarily clap last night? and guess who was scooting/crawling backwards yesterday? and guess who makes the stinkiest poo? and guess who is throwing a tantrum right now? so i'd better go!