monday: april 28th
i'm tired from a long, long day away from home…. or so it felt! we had play group this morning (LOVE those friends and their kids!) and then a visit with grandpa, grandma & uncle tom and then grandma, davey and i went SHOPPING. yep. for a long time. we had a LOT of fun at TJ Maxx and while we were there, i got THE CALL….
baby Cecilia Julianne Fankhauser was BORN!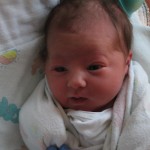 she arrived at 12:02 a.m. today (4/28/08) and weighed in at 9 pounds, 3 ounces (her mama, apparently, was 9 pounds 11.5 ounces when she was born!) and is 21 inches long. she has a head full of DARK hair and it's even curly…. we're all hoping baby Ceci keeps those curls!
and since i was already in bellingham WITH another person (a key b/c unless they are siblings, no kids under the age of 12 are allowed in the rooms with new babies!), i got to visit AND HOLD this precious bundle. I have a cute family photo, but i'm sure Christy (mama) wouldn't think it's too cute, so i'll refrain from uploading it to my blog!
Our shopping adventures today also took us to The Dollar Tree and the mall. Grandma was doing most of the shopping, though I did manage to snag a new purse at TJ Maxx (it's a Nine West – one of my favorite brands – for only $25) and a little outfit for Baby Ceci. And I'm always a sucker at The Dollar Tree, but I did a good job and only spent $12 there (and $3 of that was on baby shower/present gift bags)!
Over the weekend ('cuz I haven't updated you), we had some really nice weather. So on Saturday, Dave was REALLY busy! He mowed the lawn and cleaned the deck. Plus he had a work lunch (side job) and then came home with one of our cabinets from mom & dad's house (dad built us some custom storage cabinets for our bonus room and we've been WAITING for the weather to get warm enough so we could paint them). we spent a bit of time on-line reading up about faux white-washing techniques and we finally went with equal parts water to paint and then lots of ragging (aka: wiping OFF the paint). we each did a cabinet and there's still one unpainted one in mom & dad's garage. i have a feeling i'll be doing that one by myself! we still have to put a coat of a "sealer" over the paint, but i'm pretty pleased with how they've turned out. once we seal these cabinets, we can move them up to the bonus room and finally GET THAT PLACE IN SHAPE! two of the cabinets are for my scrapbooking stuff (and i'm counting on them to hold a LOT more than my current shelving situation, so hopefully i'll take up LESS space in the room) and the third one is for Dave's photography stuff that has taken over a corner of the room. with lighting kits and camera bags and everything else in-between, his cabinet will come in handy. hopefully we can get the twin bed out of that room (and store it… where?) so we can set up davey's little play corner. but enough about this… i'm sure i'm boring you.
davey is as cute as ever. he still LOVES to people watch and he's been doing it all weekend and all day today. he really is a good boy and only fusses when he's "stuck" or been "stuck" for "too long" (like today with the shopping carts and stroller). he looked SO CUTE on sunday… we pulled out an outfit that his great-grandma bought for him…. a gymboree outfit… and i mean OUTFIT. pants. shirt. hat. and matching socks. all with a blue theme and an "ant" theme. so darling! he wasn't a big fan of the hat, though i did manage to get him to forget about it for awhile when it was on his head sideways! so here's the little cutie:
and with his favorite finger food: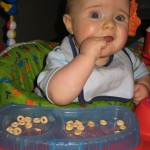 CHEERIOS!
I'm tellin' ya, this kid can eat cheerios by the fist-full. i'm not sure they're his all-time favorite snack, but because he CONSUMES them at an alarming rate, it's cheaper to give him those then a lot of puffs, so we save the puffs as "special" snacks! :)
and since that ant outfit was so darn cute, we FINALLY remembered to take davey's photo with his (my?) stuffed elephant…. his official 9-month photo…. only two and a half weeks late (again)!
i don't think i've told you yet, but one of the reasons i haven't been posting as much is due to TIME. i'm currently covering for a co-worker who is on vacation (for two and a half weeks) and has me doing about as much work in those 2+ weeks as i've done ALL YEAR! yeah. pretty crazy. but good for the wallet!