wednesday: april 23rd
today we get to see uncle tom. last night he arrived home from his three (plus) months of adventures in spain, france, italy and scotland. he's eager to see davey. so today we'll probably spend a lot of time at grandpa & grandma's house…. and we'll be back there tonight with daddy, too!
over the weekend, dave and i got to spend a lot of time with davey. neither of us had anything we HAD to do. no work. no projects. no errands. it was just a relaxing weekend at home and we loved it. we also got to watch davey roll and roll and roll…. he still hasn't quite grasped that he can roll to get from one place to another, but i'm okay with that. right now he pretty much stays in the general area where we set him down. but over the weekend, he did assume the position (all on his own!):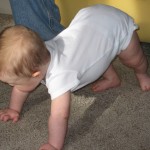 he hasn't figured out crawling yet (not even the army crawl), though he is learning how to scoot himself around. we know, however, that once he crawls for the first time, we're done for… he'll be doing it non-stop until he learns how to walk!
what else is he doing? he's learning how to balance on his feet. he's doing really well at it, too. we can lean him against the couch or chair or ottoman and he'll stand there for long stretches of time. it doesn't even phase us anymore when he does it!
so i'll leave you with a photo of davey sleeping the other night… he was asleep on TOP of his blanket…. and he was arched in a most-uncomfortable looking way: