Saturday: April 19th
these things are odd (perhaps even seriously odd):
- the weather. it snowed this week – at least three times. it also hailed. rained. was sunny. and is crazy-windy today. last saturday it was 70 and sunny. don't think we'll have another day like that for awhile.
- davey's naps. thursday night/friday morning he decided to be awake from 3:20 to 4:30 a.m. neither dave nor i slept during that time. and neither of us was happy about it. then, he didn't wake up until 9 a.m. and then only took one nap for the day from noon to 1:45. last night he slept through the night (8:15 p.m. to 6:30 when he got a binky and 7 when daddy fed him) and then took a three hour nap (10 a.m. to p.m..). he normally takes a one hour nap in the morning.
- i have been able to scrapbook a few times this week. and play with my supplies. and put stuff away. and rearrange a little. this rarely happens. maybe it has something to do with getting my new adhesive gun in the mail (my first one was defective).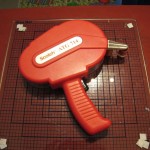 i actually FINISHED a number of layouts from the last TWO crops i attended (in february and april)… and they're now sitting in a box waiting to be put into albums (that's a whole 'nother project!)
- it's saturday and we have no plans. not one. nothing looming before us. (this "seriously odd" item feels nice!)
- my brother called me last sunday. he normally calls on my birthday. and dave's birthday. and maybe certain holidays (like christmas and thanksgiving). i loved talking to him. and it appears he called "just because." i love that he did that. but it was out of the norm (aka: odd)!
- davey, who normally has hot, sweaty feet (seriously, i think that kid could walk through a blizzard without socks and his feet would stay warm) had FREEZING COLD feet this morning when i got up. i dressed him in one of the warmest outfits i could find…. a fuzzy, fleece lined sweatshirt with matching (NOT fleeced-lined sweatpants) from nana. it's brown and tan and super cute!
- i made cookies the other day and even though i've eaten quite a few of them (hey – if they're there, i'll eat them), they haven't tasted very good to me. not like they taste funny. but just like i no longer like chocolate chip cookies (GASP!). that's also very odd. (i've known the toll house chocolate chip cookie recipe BY HEART since i was about 8 years old – go ahead, test me sometime on the ingredients.)
- i'm sure there are many other odd things, but that's all i can think of for now. i'll leave you with lots of photos of my layouts from the april crop (including the layouts i had to "finish"):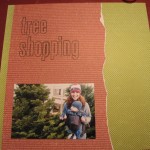 here's proof why you don't talk and scrap at the same time… you spell "shopping" with two "o"s instead of two "p"s and then you have to stamp a 2nd "p" over the 2nd "o" and it doesn't look so good!
but then you talk to different people about it and leah gives you some great advice on how to "fix" it without re-scrapping it (can't get that paper anymore):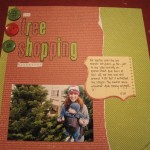 and a close up of the fix: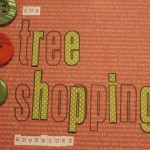 (hey meg – recognize those buttons?)