wednesday: april 2, 2008
here's a fun shot from last week: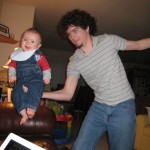 davey is still as cute as ever. i love my little guy.
my house is slowly returning to order. today is going to be laundry day. and we have to go to the grocery store because we're out of bananas. davey likes to help me eat a banana each morning. and yesterday he ate half a container of peach yogurt. my little boy is growing up.
i'm currently in the midst of a scrapbooking project for my friend Brandy… i have less than one week to finish it. and this weekend i have the 20-hour crop through Treasury…. i'm hoping to have Brandy's book finished before then so I can work on photos of my darling davey baby during the crop!
i feel like there's so much more i should be telling you today. but apparently my brain isn't fully functioning. so that's all folks!