thursday: april 24th
so this week davey has done at least two new things….. the first was yesterday when he got to wear his little baby gap "converse" style shoes: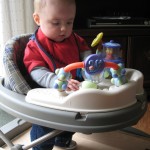 i found these navy ones and some black ones at a garage sale (preview) last weekend. they're SO CUTE…. unfortunately, they're a bit too small. so sad. they're so darn cute on his feet… but at least now i know that he can't wear a size 3!
and this morning, i had to go upstairs to get my computer and while i was up there i got a little bit distracted (for less than 5 minutes). and when i came back downstairs, this is what i saw: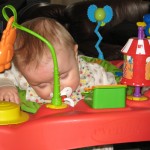 yep. that's my little boy, SOUND ASLEEP while standing up in his exersaucer. after taking a moment to find my camera and take a few photos, i moved him to his crib where he took the rest of his morning nap!