wednesday: april 16, 2008
after my dear friend meg stopped by to deliver a bag 'o books for davey (good stuff, too!), davey went down for a nap and i FINALLY pulled out my wire binding machine. it's pretty cool. and way easy to use. we're talking seriously easy. so i used gluestick to adhere some patterned paper scraps to some chipboard. and i cut up some regular school notebook paper. and there you have it… a little 3×6 lined notebook! pretty cute, huh? i'm excited to make more…. 3×6, 3×3… SO MANY OPTIONS! i have a feeling i'll be making a LOT of these for the craft show in october! hopefully they'll sell!
wanna see what else i made? okay…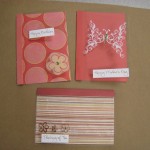 these cute cards are for my card class at the store in two weeks (4/29/08). i'm pretty excited about them… it's the first time i played with acetate for cards. so the front of each card is clear. the butterfly card actually uses two photo corner rubons. the other two cards have flowers stamped on them (using staz on ink). i'm REALLY happy with how these turned out!
and since many readers believe no post is complete without a photo of my sweet davey, here ya go: