Friday: April 4th
Everyday Davey does something new and somehow manages to make us laugh. For the past few weeks, he's been shaking his head "no" every once-in-awhile. But yesterday he did it ALL. DAY. LONG. And it's obvious he has NO IDEA what it means. But it's still SO. DARN. CUTE to watch him shake his head "no" when you ask him a question!
These days, aside from shaking his head, he's sitting up without assistance for long stretches of time. He will sit and play with his toys for long stretches of time. He still LOVES to bounce in his tigger (johnny jumper) and bounce and spin in his exersaucer. He LOVES to people watch, especially other kids and babies. He's been spitting a lot, which we're trying to stop (is it better to say "no" over and over – and sometimes hit his little mouth – or to say "no" a few times and then just ignore it?). He loves to eat a banana in the morning with mama… and sometimes animal crackers or graham crackers, too. He likes yogurt, too. He can pick up a cheerio or a Gerber puff and get it into his mouth – and he looks so pleased with himself when he's accomplished this. He loves to smile and there's nothing like the sound of his laughter. And he still loves to make funny faces and there's not much better than bath time.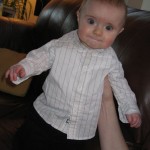 Earlier this week (Wednesday), we made an impromptu visit to grandma's house and we wound up running into Bellingham with her to pick up some medications for great-grandma. Since it was a beautiful day outside and Davey was being a very good boy, I treated us (grandma and I) to a frosty at Wendy's. Davey got to sit in the high chair withOUT his car seat (first time ever) and he got to eat some of mama's Frosty. He LOVED it!
and when the Frosty was all gone (so sad, I know), he got to play with a paper napkin…. one of his all-time favorite toys. He loves ripping them to shreds!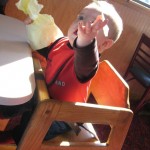 and tonight, he'll be spending the night alone with daddy while i go to a 20-hour scrapbook overnighter. and tomorrow night we're going to Henry's house to celebrate his 2nd birthday… too much fun packed into one weekend! :)