saturday: april 12th
yesterday, after running several errands (including the hospital trip to meet little bethany), we were FINALLY able to connect with our dear friend Kelsey and her two month old sweetie, Halle Joy. They're in town for a wedding today but came up early yesterday to make sure they could visit some special people. we feel HONORED that we were among the few that got to see them on this trip… it was our first time meeting Halle Joy and she was ASLEEP the whole time!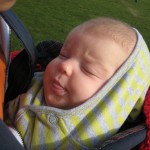 (gotta love that little tongue!)
Davey and I headed out for a walk and met up with Kelsey, Halle, Shelly, Andrew & Lizzie at the Bender Fields playground. We had about an hour to visit before everyone had go, but it was a beautiful afternoon and there was some good conversation. I'm sad I didn't get to hold sweet Halle Joy, but hopefully I can head down to their house later this month for a visit with Halle and her big brother, Markus.
While at the playground, I put Davey in a swing and he was a little more animated this time than last time. He actually SMILED a few times and laughed when I pushed him!
(that's lizzie in the left swing… she really seemed to enjoy swinging, too!)
and after swinging, davey got to experience something new….. GRASS! yep. i plunked him right down on some grass to see what he would do (it seems so many kids – boys and girls – are NOT interested in the grass… sitting in it, rolling over in it, crawling on it, walking on it).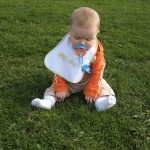 he just sat there and plucked away at the blades of grass. not happy. not sad. (it was definitely nap time while we were out for this adventure!). it'll be interesting to see how he responds to grass the next time he gets to sit in it.
speaking of grass…. it's time dave and i get outside to mow our lawn, trim dead flowers (i know, should've been done in the fall…. but i was busy learning how to be a mama!) and other random saturday projects. at least we have a fun evening to look forward to…. dinner (here) with the Baileys (Justin, Brandi, Emma and Jaden)!