friday: april 25th
the sun is shining. the weather is supposed to be up to 60 and 65 tomorrow and sunday (YIPPEE!) and i'm in a good mood. with the exception of the fact that i'm covering for a co-worker who is on vacation which means i have FIVE progress reports to write today. yes. FIVE. that means at least 3 hours of work. thankfully, grandma is going to watch davey for a few hours this afternoon so i can work in peace. hopefully i'll be able to take the peanut for a walk this weekend (maybe with dave?!).
on monday night this week, we celebrated grandma's birthday. uncle jeff came into lynden to join the family for cake and ice cream. and he LOVED playing with davey (and keeping him up past his bed time). here's one of my favorite photos that uncle jeff called "the meeting of the minds."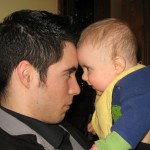 this child, my child, LOVES to head-butt people. and things. yesterday morning he was in his tigger (aka: johnny jumper) and he purposely banged his head into the door frame (he did it several times). and then when i looked at him, he started crying. guess he hasn't yet figured out that his own actions sometimes hurt him! a few days ago, he was sitting on a blanket on the floor just playing with some of his toys, which included the x-box remote. he picked it up. looked at me. then bopped himself in the head with it. then started to pout and whine a little. he passed the remote to his other hand. bopped himself in the head (again, on purpose) and again started to pout and whine.
what a funny kid. those are the only things he bangs into his head. i think almost all of his toys get bumped into his forehead (on purpose) at one time or another. good thing we all have hard heads!
on another note, i'm getting worried that he's going to outgrow his exersaucer soon. he's been on the "top setting" for months now. his favorite thing to do now is stand there and eat (and eat and eat and eat and eat) cheerios. my kid LOVES his cheerios. and he's pretty good at picking them up and getting them into his mouth on the first try. (as i type this paragraph, he's actually in his saucer eating away). i don't know what i'm going to do when he outgrows the saucer. he LOVES to stand and we get so tired of holding him up all the time. his balance is getting better, but he still has to lean against stuff in order to stay upright.
happy friday to everyone! we're celebrating here b/c we heard that great-grandpa & great-grandma dunkin are thinking about visiting the great northwest in september. i may finally get my opportunity to take a FOUR GENERATION photo of the David C Dunkin boys (great-grandpa, grandpa, Dave and Davey)!