Monday: March 24th
Our Easter was fun and relaxing. We went to church (have I ever mentioned that Davey is usually an angel-baby in the nursery? Most of the nursery workers want to take him home b/c he's so good. and cute. and sweet. can't say that I blame them. and i hope by tellng you this i am NOT jinxing myself for next week! After church we headed home and prepared a yummy meal for us and dave's parents (spiral, glazed ham with cheesy potatoes, green beans that cooked in bacon & onion for about 5 hours, crescent rolls, cinnamon applesauce…. and a marble cake with chocolate frosting for dessert). we have PLENTY of left overs (even after sending a bunch home with dave's parents). i can never bring myself to buy a small, appropriately sized ham for an event like this. i'd rather have leftovers of a DELICIOUS ham, than have to eat a not-so-yummy ham in the first place. besides, elft over ham is yummy…. especially when it has that sweet glaze on it. ummmmm. (see julie, you're not the only one)!
i forgot to mention, however, that davey slept through the ENTIRE easter meal. he missed his morning nap (which usually happens on sundays) so we put him down when we got home from church (12:45 ish) and he didn't wake up until a little after 3! (i'm really, REALLY hoping he's in the process of taking few naps, but taking LONGER naps). anyway, just because he missed out on us eating easter dinner, it didn't seem fair not to let him partake of the goods. so i pulled out the baby food "grinder" and fed him some green beans – he wasn't a fan. and i fed him some cheesy potatoes – again, not a fan. but the cinnamon applesauce? GOBBLED IT UP! yep. he wanted more and more and more. that kid is DEFINITELY the entertainment in this household! he also got to eat some cake at dessert time (though no frosting for him). he was a GREAT baby today and even took another nap from 6ish to 7ish.
The four of us watched basketball until the games were over (all too early) and then Dave said "let's watch previews" (his new favorite thing to do with his Apple TV – especially previews in HDTV). So we watched previews and eventually rented and watched a movie (can't remember the name) where Chef Kate's sister dies in a car accident and her niece Zoe comes to live with her and she falls in love with her Sous Chef…. it was cute. And pretty clean. Always a plus when watching movies with the parents! :)
Here's a photo of Davey's First Easter Basket: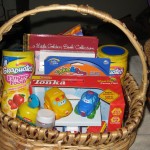 Quite a few books. And puffs (including a new flavor for him – Strawberry Apple…. he likes 'em!). Sunglasses (he's too darn cute in them), bubbles and a set of awesome little cars. And then he got ANOTHER basket from grandpa & grandma. It was filled with a Golden Book (Pixar's Cars), a cute basketball outfit (onesie & shorts), camo shoes (yes, you read right… i LOVE them!), plastic eggs with silver coinage (guess I'd better get Davey a piggy bank) and some Cadbury eggs for Dave & I.
And here's his Daddy's Easter Basket: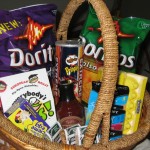 (missing an iTunes gift card that i seem to have lost somewhere in this house – let me know if you find one somewhere, okay?…. and a small bag of fire cheetos that i forgot to put in the basket)! And no worries, dear friends, I did fill a basket for myself. Fun goodies… a new hand towel & two washcloths (to match my new towels I got for Christmas), some scrapbook goodies (a mini book, journaling cards, brads, lots of flowers) and a beautiful necklace purchased at the antique & craft show a few weeks ago (one week ago?)!
And while I'm on the topic of Easter…. would someone from Treasury PUH-LEASE tell me who was my secret chick/secret risen Jesus (just for you, Julie)! I'm thinking it MAY have been Elizabeth. But that's pretty much just a guess. Would someone please CLUE ME IN, though? I'm at the store so rarely that I just don't know as much as the rest of the TOM girls. And Patti, I hope you don't feel like you got cheated or anything. Everyone was REALLY into this Secret Chick thing…. even more so than our Secret Santa, I think. I wanted to do more, but with the craft fair just ending and with getting pretty sick (yes, I'm finally admitting that I was pretty gosh-darn sick), I just didn't have the energy to do much for you… or be too creative. My chick was awesome! I got a box full of yummy goodies on Tuesday (Reeses' Peanut Butter Eggs, a giant Kit Kat, Mike & Ikes and a gift card to Starbucks). And then two days later I had ANOTHER gift card (to Trader Joes) and a mini rose bush plant (SO CUTE – hopefully I'll be able to keep it alive)! I'm just sad Secret Chick week is over. It was fun, fun, fun!
On to another topic:
Dave and I had an opportunity to go to dinner & a movie on Friday night and then spend the night in a hotel. Grandpa & Grandma stayed with Davey and had a grand time. We enjoyed our evening out, despite me being pretty darn sick (lots of coughing and nasal congestion). I'm still recovering. I feel as though I've just had one cold on top of another on top of another on top of another this season. I never seem to get rid of one before the next one comes along and wallops me pretty hard.
On Saturday morning, we headed to the Chrysalis (a local Inn & Spa on the water) to get our first ever massages. Unfortunately, I was told that a massage would make my cold last longer (releasing all those toxins into my system) so I got a very light swedish massage. And Dave's was a little more painful than he had hoped. But I think we're both VERY INTERESTED in trying again. So we'll see if any more gift certificates end up in our hot hands!
When we got home, Davey was in a good mood. We were told that he had been an angel-child and that grandpa & grandma had a LOT of fun with him. That's good – maybe they'll be willing to watch him again!!!
After doing some "easter meal prep" and other stuff around the house, we decided to place a "to go" order from Jake's (a local BBQ restaurant) for dinner. So while Dave was out picking up our order (including a side trip to the grocery store for limeaid and strawberry syrup so we could have strawberry lime drinks like they make at Sonic), Davey had fun playing with a keyboard: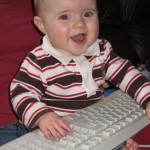 This kid LOVES to type and bang on computers and keyboards! Like father, like son, I suppose. It appears that I have a little "techie" on my hands. Oh the expensive toys this child will need to own!
And I couldn't help but crack up at this photo…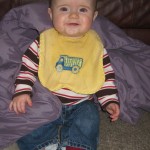 I keep thinking of that nursery rhyme where someone has "one sock off and one sock on."
Happy Monday to you all, dear friends! Hopefully at least ONE of these photos was able to put a smile on your face! Davey and I plan to go to play group, then to grandpa & grandma's house and a trip to one more bank to try to cash the last of the checks from the craft fair (we've gotta finish our "pay out" to everyone)!