thursday: march 13, 2008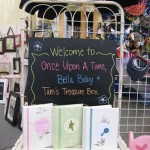 WOW! yesterday was CRAZY! lots of hours setting up and making our booth look cute… but it all came together SO BEAUTIFULLY! it's a total God-thing. Linda and I stopped at 2nd Chance (a thrift store) on our way to the show set-up. For $8 we bought 5 white/cream curtain panels and 2 yellow ones. Linda borrowed a canopy from a friend and we hung the curtains. They weren't quite enough but they sure did help. But on her second run home, Sara found some curtains and brought them along. We went to hang them and guess what? Two white eyelet curtains and two yellow/white gingham curtains. Seriously. God orchestrated even the matching color of our curtains!
Our booth is FULL of goods. And it's pretty TIGHT quarters. But it looks SO DARN CUTE! Wanna see? Here ya go: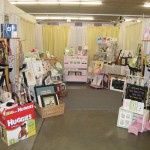 (sorry about the diaper box… just pretend that's not there b/c it's now in my garage).
views from each side of our booth.
pretty cute, huh? Sara has SO MUCH cute stuff… I hope she sells most of it (there are a few things I want to buy… and a few things she hopes don't sell so she can keep them for herself and her girls)!
and since a post is not complete without a photo of my darling Davey, here's one i captured yesterday morning before i left for the set-up time: