friday: march 7th
seriously. my kid is adorable. i know i'm biased. and i know i'm not supposed to say it. but i have to. lots of strangers tell us he's cute. all of our friends tell us he's cute. and of course dave and i think our kid has that "it" factor. but in case you've been missing him lately, here are some photos that i just pulled from my camera… they date back over the course of this week:
davey still loves running water. he doesn't comprehend where it's coming from or HOW it's coming through the faucets. but it makes him happy none-the-less!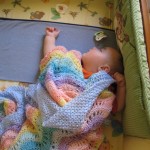 he still doesn't roll over. at all. on purpose or on accident. but he sure loves to arch his back and ALMOST roll over. especially in his crib. and even though it looks like his eyes are open a bit here, he really is sound asleep.
i love these shots. my child is so expressive. (wonder where he gets that? tee hee!) that second one really shows off his new smile (including squinty eyes) and his double chin. i do have a chunky monkey for a baby!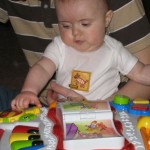 playing with his music table from uncle john, aunt babi and cousins liz, kate & wendy. he LOVES this table. but he'll ONLY stand in front of it. no putting it on the floor and sitting him by it. so i save it as his "special treat" toy. he mostly gets to play with it in the evenings while we wait for daddy to come home from work (and while i try to avoid having a fussy baby)!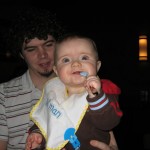 this one is from tonight. we went out to eat at jakes, a bbq joint in town (lynden's newest restaurant). davey was pretty well behaved at the restaurant. he's actually been pretty well behaved all week, despite some difficult moments (likely due to his teething situation). i am so thankful to have a generally happy baby.
off to watch a movie with dave… and tomorrow i "get to" work ALL DAY on my craft projects and dave will hang out with davey. i think i'll have to be a card-making machine tomorrow. that's my goal, anyway.