monday: march 31st….
HAPPY BIRTHDAY, CARRILEE!!!!!
what a weekend. i woke up to snow on friday morning. davey and i braved the cold weather and headed to the grocery store where i decided he was big enough to try sitting in the cart all by himself….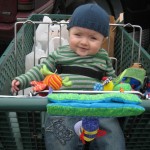 that night, i had a fun evening out with my "mom" friends. i love you girls! and i had forgotten how yummy the food is at chihuahua's in ferndale! love me some mexican yumminess!
then on saturday, i hosted my dear friend (and former roommate) Christy's baby shower. she's expecting a baby girl in about 4 weeks. i was a bit busy with the shower and therefore i neglected to take any photos. sorry, christy!
and here's a smattering of random davey photos:
i love those happy and somewhat cheesy (the first one, especially) grins!
in this next photo, check out his hand on the "gear shift…" so cute! and notice his crossed ankles? his ankles rarely stop moving… they're often crossed (as in the photo) or he "rolls" them around in circles. i love how comfy he looks on his daddy's lap!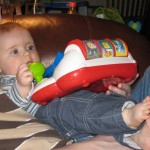 and another new pasttime…. grabbing his toes and holding onto his toes/foot while eating his bottle (he did this for about 15 minutes today – it's hilarious b/c he has to remove his sock first, which i don't often let him do)!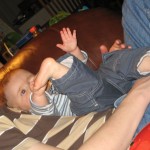 he really is a great baby. my heart melted (yet again) today when I went to pick him up from the nursery after church service. he was sound asleep in the arms of a teenage girl who was helping in the infants side of the nursery. apparently he had fallen asleep while drinking his bottle (about the only time he'll fall asleep in your arms anymore). so darling.