Friday: March 28th
Davey was being REALLY fussy earlier this week. There was very little Dave and I could do to pacify him. Until I put Davey on my shoulders. He was happy as could be at that point! So here are some photos of Davey on my shoulders… he's SO HAPPY and he just kept snuggling into my hair. It was so funny!
so even though that was pretty cute, THIS was not: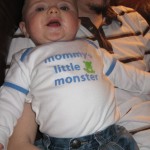 Despite my "little monster" and his moments that drive me insane, I'm feeling a LOT better than I did earlier this week. Thanks to Dr. D and those antibiotics, I'm feeling much, MUCH better! I might even have the energy to finish up my to do list (which includes planning & prepping for a baby shower at my house THIS Saturday)!