tuesday: march 25th
HAPPY BIRTHDAY, NANA! We love you and we miss you! (And we're sending your present today).
In honor of your birthday, Davey wants to show you his new "joe cool" look: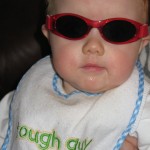 Red shades just for you, Nana!
And another photo of Davey from Easter, eye-balling one of his favorite "toys:"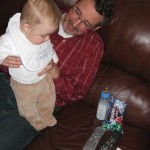 … the remote controls!