saturday: march 15th
i'm SOOO tired. but not as tired as linda and sara. they've stayed up late for the last few nights to create more items to sell. they both did REALLY well at the show. and we all agreed to do it again in october… same show, but supposedly bigger with twice the sales. i figure my stuff will sell better at that time, as people will be able to buy the items as gifts for other people. and i'm going to alter my merchandise… i'm gonna invest in a wire-binding machine and make some journals and desk-top calendars and stuff like that. i'll hit that higher price-point (the $15-25 range) and hopefully I'll have a better show.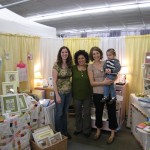 (from left to right: me, linda and sara – holding her daughter mia – in our booth)
Oh yeah. you probably want an update on my show results? Well, I sold exactly ZERO of my 8×8 albums. I was hoping to sell four. and then this morning i lowered my expectation to two. and then this afternoon i hoped to sell one. just one. but none. zip. zero. zilch. oh well. i tried, right? despite that, i DID sell almost $200 worth of smaller items. so I did lose money on this venture (simply b/c i have an overstock of smaller items right now) but i might open an etsy shop to sell them (frames, photo albums, gift tag tins, mini book tins, etc.). so i'm not elated with my end tally for the show, but at least it wasn't a total bust for me. and i got my name out there. i got some experience. and i learned what will and won't work. so learning experience is good.
so all-in-all, i'm really glad i did the show. and i'm looking forward to the one in october. and i plan to start working on items to sell…. SOON! :)