Friday: March 21st
So today is Good Friday. Except I have a cold (a pretty nasty one). And tonight is our first night to leave Davey all night. And I have a LOT to do. That doesn't sound so "good" to me.
Yesterday, Carrilee watched Davey for a good portion of the day so I could go to Treasury and help stock and price all of our new products. I LOVED getting to see and touch and inspect everything. And I even managed to snag a sample! When I got home, I wondered "WHY in the WORLD did I take on a sample (or three?) for the store?" They all need to be completed ASAP and I knew I didn't have the time OR energy to commit to any samples. But last night, I finished two of them pretty quickly. Wanna see?
The first is a 24×24 canvas, painted a light blue and "strung" with a LOT of ribbons. It was fun to make and I like how it looks with Davey's "little" pictures.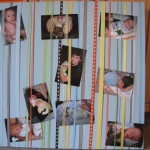 And this next project is a mini book made with the brand new Cosmo Cricket "Cogsmo" line: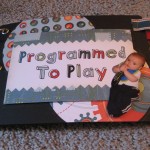 This line is SO PERFECT for our family. While it's got a lot of robots, the matching stickers and die cut journaling cards are perfect for "tecchie" stuff. I think I'll have to buy some more of this line and make some layouts of Davey and Daddy at the computer!
So now I just have a set of cards to make with another new line that arrived this week. But before all that, I think I should go take some AWFUL cold medicine and then take a shower. One step at a time today, one step at a time.