sunday: march 2nd
it's been a family-filled weekend which we really enjoy. i love that davey is getting to know and recognize some of his family! today grandpa was flying him through the family room: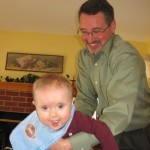 and davey loved it!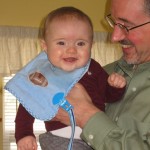 dave's project is FINALLY over. yea! and now he's finishing up his DIS (i.e. work) project that he had to put off while busy with the side-job project(s). whew. he's not 100% finished with anything yet, but at least his life can return to a little more normalcy starting this week. which is just in time for me to really get it in gear for the craft & antique show…. only 11 days to go!
here are the projects i was able to start and complete this weekend:
these are gift card holders: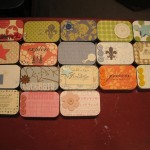 these are mini albums in a tin:
(sorry for the sideways photos… the lighting is really bad in my craft room right now).
and some altered mini albums that hold wallet-sized photos: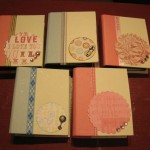 i'm not quite sure of pricing yet. any suggestions?
oh yeah… dave and i also discovered the wild world of FACEBOOK this weekend. we realized it was our best bet at keeping in touch with tom (dave's brother who's in spain right now at a Bible school). i had NO IDEA how many people are on facebook. there are people from my high school class (a class of 36 people!) and my college class (two of my roommates are on there!) so it's this wild world taking me back in time to some old memories. weird. but cool. lots of people i knew before i moved out here (aka: friends from back east – people from my youth group days). i'm barely considering myself a "beginner" with face book, but so far it's been fun (and a little frustrating) to navigate. so if any of you are on facebook, let me know and i'll gladly be your friend! :)
okay. the munchkin is pretty fussy. gotta go. just remember to give me your suggestions about pricing for those gift card tins, mini book tins, mini albums and whatever else i made and posted! THANKS!