wednesday: march 12
the craft show is almost here. today, at noon, i meet up with linda and sara and we get to set up our booth. could take us several hours. thankfully there's also a "luncheon" available to us. pretty cool.
here's my big "score" from yesterday: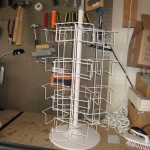 a local restaurant (Lynden's Cup of Tea) has gone out of business. They're open through the end of this month to sell off all their remaining items, displays, etc. This card rack was a deal! I stopped in on Monday to see if I could buy it. Colleen (the owner's daughter) wasn't sure so she agreed to check with her mom that night. Yesterday I stopped back in (before I got the message from the owner, Jeri's) to see if it was for sale. I had prepared myself to offer $30 for it. But I was willing to go up to $50 for it. I have no idea how much those things cost new. So I walked in and Jeri offered it to me for $25! SCORE! I was SOOOOOO excited! Now I can actually DISPLAY my cards for sale, rather than have them piled up in a few baskets around the booth. So I headed home and spray painted it "heirloom white" (has a hint of cream in it) – it was just bright white.
So now I should spend some time with my little munchkin. Grandma will be watching him for the next few days while I'm at the show (and Dave will watch him on Saturday). Here's a photo I took this morning. He's wearing a cute red shirt (with grey sleeves) and denim overalls. I REALLY like seeing my little boy in overalls… thankfully his nana has hooked him up with QUITE A FEW overall outfits (though this one is from my friend Suzanne)!