thursday: february 21
HAPPY THURSDAY!!! yeah for another sunny day here. hopefully we can get a walk into our schedule this afternoon. (yesterday was kinda cloudy so we ran some errands).
so you now know about the magic of davey's poopersaucer. he also has an outfit that tends to be his "i'm going to poop out of my diaper today" outfit. (though he did wear it last night for a few hours and remained poop free!) but today, i thought i would share with you a photo i managed to snag on wednesday….
THIS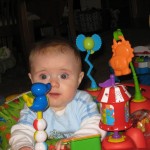 is davey's poo face. notice the vacant look on his face? the watery eyes (that sometimes turn a little red, too)? he's standing still. he's silent.
yes, my friends. if you are ever holding or watching davey and you see that face, you know he's working on a special surprise for you!
but since i can't share with you ONLY that photo, here are two HAPPY photos of davey in his poopersaucer….. with poo still in his diaper.
as you can tell, it doesn't bother him too much to have poo in his pants (unless it's there for 5 or 10 minutes or longer and then he gets fussy)… i think it's always such a relief to have it out!